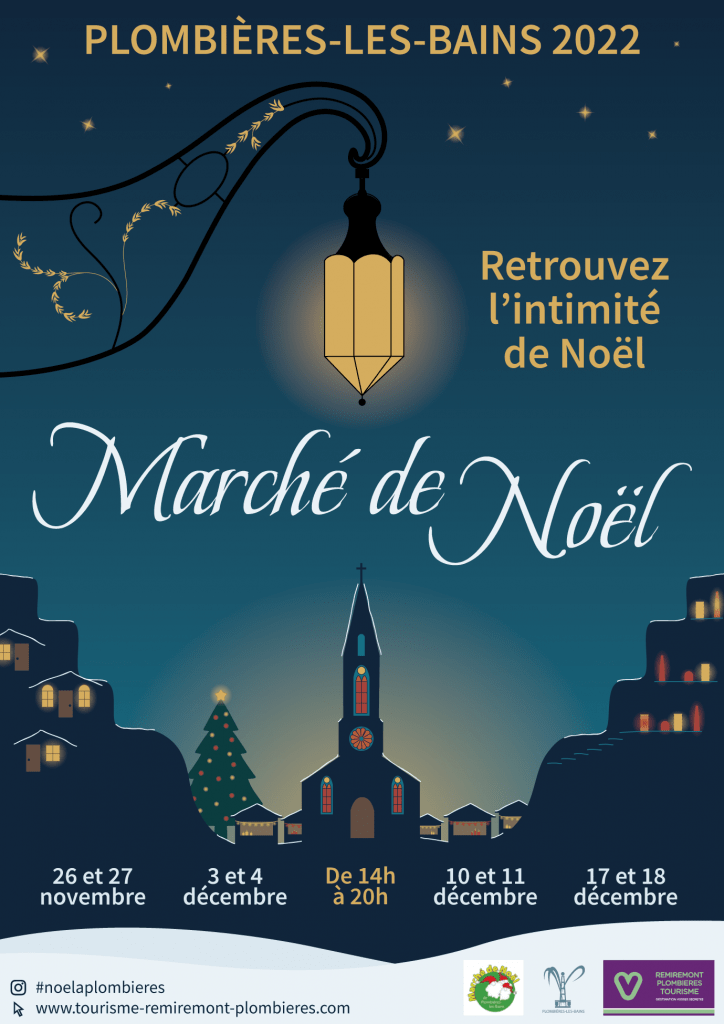 A Christmas market of yesteryear
During the 4 weekends preceding Christmas, craftsmen's and merchants' chalets as well as pop-up shops take over the town centre.
Here, the Christmas spirit takes on its full meaning. Throughout the year, the inhabitants and volunteers of the association prepare the decorations to sublimate the elegant Plombières-les-Bains.
Strolling through the streets adorned with lights, you will find Christmas decorations, jewellery, wooden objects, cakes and sweets, gingerbread, honey... And of course, you will not escape all this which organizes a Christmas market in the Vosges: hot chestnuts, bacon and munster cheese sandwiches, apple juice, soups, chourros and mulled wine.
You will then take the time to savor, in all simplicity, the Advent period, the opportunity also to become a child again thanks to the sensations found.
November 26 and 27 - From yesterday to today
A return to Plombières at the beginning of the last century, with costumes, demonstrations of ancient know-how, tasting of recipes from the past, traditional dances and music...
December 3 and 4 - Saint Nicholas and his legend
Young and old will be able to remember the legend of Saint-Nicolas in sound and light, meet the patron saint of Lorraine and attend the traditional parade of the great saint. The Saint-Nicolas prize for Christmas stories will be awarded to the winning author of the literary competition.
December 10 and 11 - Lights in the market
Plombières will welcome its visitors in its coat of light to the sound of batucadas. Young and old alike will be invited to take part in the lantern parade and will be able to admire the Lights on the Terraced Gardens.
December 17 and 18 - Christmas soon
Last straight line before Christmas! Santa Claus will be waiting for visitors in his chalet and will pose for photos to the sound of Christmas carols. The traditional living nativity scene will recount the Nativity and the cinema will offer the Christmas film festival.
More than a market, a Christmas spirit